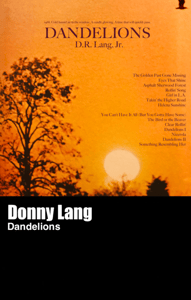 $

7.00
It's 1968. Cold humid air in the window. A candle glowing. A time that will quickly pass. From a castle by the lake in Oakland, California- a thin fingered hand from the arm of a man strums a guitar. And we go where we go. Any place we don't know. And we must take comfort in survival. And we must take comfort in arrival.
And so it arrives: Troun Records is pleased to announce a new solo record from Magic Hero vs. Rock People frontman Donny Lang, Dandelions.
And we do mean solo. These recordings were made with a single microphone into a 1960s Ampex suitcase recorder. Shure, a little echo was added- courtesy of an old friend called the Vocal Master. That's the castle.
The Guild guitar Mr Lang settled on came with a story too. The seller said he'd had it since '69- the Jesus guitar. A former truck driver, he picked up a hitchhiker near the Mojave desert and gave him a ride to L.A. Upon letting him off, the hitchhiker insisted the truck driver keep the guitar: "I don't need anything but Jesus now …" The guitar returned to California just in time.
The record's subject matter varies from the intangibility of nostalgia, to mysterious and failing relationships, Charles Manson as a CIA asset, California from San Francisco to L.A., women as flowers, and spirit guides- among other threads. When asked to describe the new record, Mr Lang simply stated, "I'm presenting an alternate history of the '60s from where I sit."
While it's challenging to define exactly where he sits, we're interested in hearing all about it. And we hope you will be too.