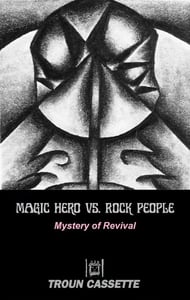 $

7.00
A cassette-only release from Magic Hero vs. Rock People, Mystery of Revival.
Donny Lang has been making vintage-sounding 'Thrift Shop Psych-Pop' since 2007 with his group of revolving minstrels, Magic Hero vs. Rock People. The Magic Hero sound relies heavily on a unique sort of lo-fi vision -- through the soundscape of late '60s-early '70s soft-psych, calling to mind long-lost would-be outsider classics.
Mystery of Revival is a compilation featuring songs culled from all of the group's albums: Oak of the Golden Dream, Secret Enemies, Magic Hero vs. Rock People, Begin Thee Again, Odd Zen Ends, and Great Gondolas Calling, along with previously unreleased outtakes.
These recordings were made in an old-fashioned manner: tapes, tubes, transformers, and transistors. The original 1/4" 2-track and mono masters were used for this collection.
Side One: 1 I Live in a World / 2 Treat It Like Your First / 3 Black Magic / 4 Astro-Turf / 5 Letters in the Sun / 6 A Grand Stop in the Best Direction / 7 Only Road You're Gonna Find / 8 He's Gone / 9 Begin Thee Again (Movements) / 10 Oklahoma Rain -- Side Two: 1 It All Depends On Everything / 2 Hole in Time / 3 You Must Stand On Your Own / 4 1978 / 5 Who Are the People in Your Neighborhood? / 6 Contraband / 7 Pretty As Can Be / 8 Beware the Young / 9 A Season in Time / 10 You Must Stand On Your Own (Reprise)
(vintage-style cassette)